Click
here
to view the original
post
.
Obviously, disasters are more than just your ordinary day, but they typically start as one. I have been through more than my share of disasters in my lifetime. Some have been major and some not so devastating. Here's the deal, we need to be prepared every day for whatever comes our way. The first disaster I was involved in was years ago when I was about 16 years old. I lived where snow was falling so beautifully all over the lawns, the sidewalks, and the streets. The trees and bushes in the yard looked just like a Christmas card. But then the temperatures dropped, and they dropped quickly. I had never seen an ice storm, literally, roads had become like ice skating rinks. Not really safe to ice skate in the extreme cold weather. The roads were closed for days, then two weeks.
My cousin and I had to walk to the store to get milk, and whatever else we needed at the grocery store. Keep in mind I was 16 and I had a pocket of cash walking in a snow covered sidewalk to the store. I had never lived where it snowed. It was cold, but it was fun because my cousin and I were together and laughing as we walked there. We laughed until we got to the store. There were lines and the food was rationed for families. WHAT? What is rationed? I soon learned we were allowed one gallon or one quart of milk a week, if they had it. I was back east helping my aunt for a few months who had a new baby.
Please keep in mind my mom always had a pantry filled with canned goods and bottled fruits. She made bread and taught her daughters to make bread and to be self-reliant without really knowing it at the time. Oh, how I wish my mom knew she inspired me to be prepared. She died before I was asked to write a book on food storage and emergency preparedness. If you haven't purchased it, I highly recommend my book: Prepare Your Family for Survival: How to Be Ready for Any Emergency or Disaster Situation
It's a family friendly book where no weapons are discussed. I wanted the book to be a teaching tool for classes and family meetings. It's available in stores online or in most every bookstore. I was honored to be asked to write it for people to be prepared for the unexpected.
Just An Ordinary Day:
Typically disasters start out as an ordinary day and can have some warning, or no warning at all. You would think where we live we all would have some way to be alerted as quickly as possible about the minor or major disasters listed below. Yes, we do hear in some cases beforehand, but other times we will not hear for several different reasons.
If you only have cell phones remember that these are not automatically on a Reverse 911 Emergency Notification System. If you are at work, at the park, the gym, driving somewhere and you have your cell phone AND we have a disaster or emergency, your CELL phone will alert you if you have registered your cell phone. You must register your cell phone with your local Reverse 911 Notification System if you want to be notified. You can "Google" Reverse 911 Emergency Notification in your city or county and you should be able to find it. Please do it today!
Floods
Overfilled rivers, canals and drain pipes gushing with water from excessive rain or snow melting
Fires
Ice Storms
Hurricanes
Tornadoes
Tsunamis
Riots
Mass evacuations
War
Pandemics
Railroad derailments
Transport accidents
Earthquakes
Sewer backups
Waterlines broken
Water contaminated in local water systems
Please be prepared for the unexpected, a disaster or unforeseen emergency could strike your neighborhood at any time. Are you prepared with water, food, cooking devices and fuel? Please start with one thing at a time. You do not need to go into debt to be prepared. We can't think that the government will have supplies for our cities, nope it's not going to happen for days, weeks or possibly months. Just picture grocery stores empty after a disaster because they will be empty in 24-48 hours at the most. Please remember to store bleach for cleaning up sewage, or whatever, and rotate it every 6-9 months. Trust me, we will need it. Please keep your gas tank 3/4 full and have cash on hand like fives and ones. If we lose power the ATM's, the gas stations, the pharmacy and some stores will not be able to process your debit or credit card. Hard cash will work if you need it on any not so ordinary day.
My favorite things:
WaterBrick 1833-0001 Stackable Water and Food Storage Container, 3.5 gal of Liquid, 27 lb of Dry Food Products, Blue
Water Storage Containers – WaterBrick – 8 Pack Blue
WaterBrick WB-0001 Ventless Spigot Assembly, Fits Both WaterBrick Water Container Sizes, Blue/White/Red
3M 1860 N95 RESPIRATOR AND SURGICAL MASK Box of 20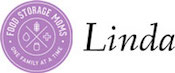 The post Disasters Are More Than Just Your Ordinary Day appeared first on Food Storage Moms.