Click
here
to view the original
post
.
I'm sharing why I love cleaning bathrooms every week with you today. It may seem odd, but I really love to clean bathrooms. I feel like it cuts down on bacteria, obviously, the bathrooms have who knows what in the toilets, the bathtubs, the counter tops, and don't forget the light switches. I have a definite routine for my bathrooms. My house is very small and only has 2 bathrooms. When I worked I had someone clean my house every week for almost 20 years, it was awesome. Yes, I am a perfectionist and I had to give instructions to the gal that worked for me. I had the same housekeeper for all those years and I loved her like a sister.
I had a large home with five bedrooms, four bathrooms, a dining room, a living room, a family room, and two kitchens. It was a great family home, but a few years ago, Mark and I decided to downsize. It's been very hard for me to live in this tiny home because I love to entertain and I have had to adjust to a very SMALL home. But I am grateful I have a home, regardless of what size it is. Since I semi-retired my routine for cleaning bathrooms is every Sunday. Yes, it's the Sabbath, but that day is my day to clean my bathrooms. What can I say, it works for me.
Cleaning Bathrooms:
The first thing I do is wash the toilets, I love clean toilets. I literally can clean my bathrooms in five minutes. Yep, five minutes. Here is the tool I use for the toilets: Don Aslett's Complete Toilet Set with Pumice Stone
and these are the brush replacements: Don Aslett's Johnny Mop-Set of 3
and I buy this product when my bottles of cleaner get low: Safety Foam Toilet Bowl Cleaner 2 Pack
Next, I clean the bathtubs with this gadget as I no longer kneel on my knees: Hurricane Spin Scrubber Cleaning Brush
Keep in mind if you can kneel just use a good brush and keep up on the scrubbing because I only use this baby once a month. I use Spic N Span or whatever other cleaner I have in the house. I have tried homemade cleaners and they don't measure up to my scrub test. If you have a great recipe for one, let me know. Then I clean the counter tops with Clorox wipes and clean the windows with a good window cleaner like this one: Sprayway, Sprayway Glass Cleaner, 19 oz Cans, Pack of 4
I think you can buy this brand at Costco as well. If you want clean mirrors and clean windows don't buy the old standby window cleaner brand. It leaves streaks and the windows look worse after you smear the dirt around. Just giving you the heads-up here. I kind of work my way out of the bathroom by cleaning the floors with my Clorox wipes. Yep, I have small bathrooms, this wouldn't work if you have large bathrooms. I clean mine every week and therefore I can clean them in 5 minutes, literally.
The reason I'm talking about cleaning bathrooms today is because I have several, and I mean several, sick people in the neighborhood. No, it's not from bathrooms that need to be cleaned, but I think clean bathrooms help us stay healthy. Of course, we need to eat fruits and vegetables to keep our immune system healthy as well. This post is a friendly reminder to use a cleaner (I use Clorox or Lysol wipes) on door knobs, light switches, TV remotes and counter tops. And don't forget to empty the bathroom garbage cans as needed. I use the small 4-gallon garbage bags in my bathroom. I replace them as needed, but at least once a week. You can buy them at your local supermarket or Amazon: Glad Garbage Small, White, 30 ct, 4 gallons, 2pk
I hope you are well and working slowly on being prepared, you will be glad you are! May God bless your family.
My favorite things:
WaterBrick 1833-0001 Stackable Water and Food Storage Container, 3.5 gal of Liquid, 27 lb of Dry Food Products, Blue
Water Storage Containers – WaterBrick – 8 Pack Blue
WaterBrick WB-0001 Ventless Spigot Assembly, Fits Both WaterBrick Water Container Sizes, Blue/White/Red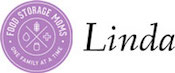 The post Why I Love Cleaning Bathrooms Every Week appeared first on Food Storage Moms.