Click
here
to view the original
post
.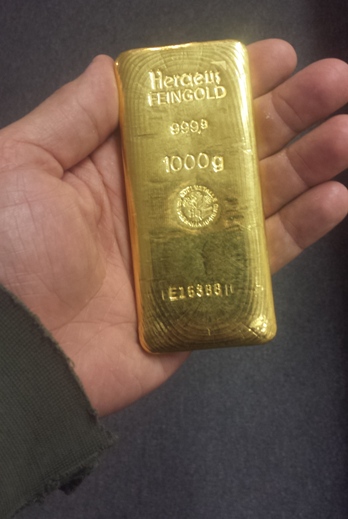 Yup…one kilogram of fine gold. There is very little in my or anyone elses life that this will not fix, or go a long way towards fixing. It is not even as big as a PopTart, yet it's enough to buy a brand new truck, put a down payment on a house, buy five Barrett M82A1s, or get you the best night of your life in Vegas.
Really, what you're looking at is the most concentrated form of energy that doesn't require lead shielding to use.
Being a survivalist, your day-to-day is a Venn diagram of gun dealers, precious metals dealers, tradesmen, and a few other colorful folks…and they often have cool stuff. In this case, a kilogram of gold. What didn't fit in my hand was the 100 gold 1oz. rounds that were sitting next to it.
Kinda looks like something out of Kelly's heroes, doesn't it?
Survivalism: introducing you to new experiences since…always.