Click
here
to view the original
post
.
Equisetum hyemale is commonly called scouring rush or rough horsetail. Equisetum is not a rush, fern, or reed. This horsetail is a non-flowering, rush-like, perennial, which is native to Europe, North America, and Asia, and is invasive in most places. It is very easy to grow Equisetum Hymale!
It is a single surviving genus that dates back 350 million years. Its name comes from the Latin word equus meaning "a horse" and seta meaning "a bristle."
The stems
It occurs in wet woods, moist hillsides, and the edges of lakes, rivers, and ponds. This species has rigid, rough, hollow, jointed-and-segmented, bamboo-like, dark green stems that are about 1/2 inch in diameter at the base.
Photosynthesis happens in the stems of this plant. Fertile stems bear pine cone-like fruiting heads about 1-inch long, which contain a lot of spores.
If you live in an area that is frost-free, the evergreen stems are pretty in winter.
The stems are also high in silica and were used by early Americans for polishing pots and pans. (1)
The leaves
Tiny, scale-like leaves attached to the stem and fuse into an ash-gray sheath, which is a 1/4-inch long. The leaves end in a fringe of teeth marks at each stem node (joint). During the growing season, these teeth shed.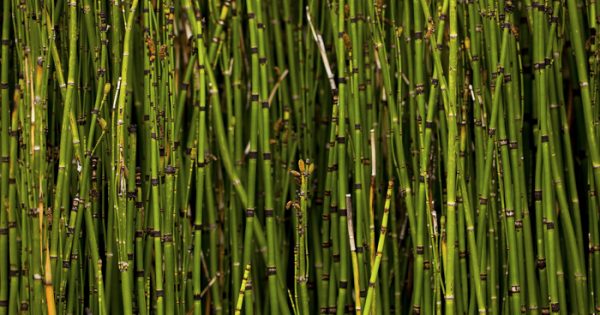 Grow Equisetum Hyemale
This ancient plant spreads by rhizomes (underground stem that acts like a root). It is commonly called horsetail or winter scouring rush, but there are several varieties. This particular species is one that has been used for centuries for tooth and gum care.
In your landscape
Horsetail reeds (Equisetum hyemale) is a great addition to the edges of backyard ponds and water features. The reeds thrive where soils are moist, but the plant remains above water. Depending on where you live, it can be invasive. This species of horsetail multiplies in a "thicket."
The reeds may stay green where frost is not a concern. The reeds are typically grown only as a potted plant, because they spread quickly via underground rhizomes. It grows to a height of 2 feet to 4 feet.
Soil
Equisetum Hyemale tolerates a wide-range of moist soils It will even grow in up to 4 inches of standing water. A large colony of reeds forms in the wild. Equisetum Hyemale is a very aggressive plant, which needs to be restrained by a pot. Once established, it can be challenging to remove because the rhizomes spread wide and deep. Any small section of rhizome left behind will sprout a new plant. In water gardens, plant in pots, or it will choke out other plants.
This horsetail species likes a slightly acidic soil with a clay, loam, sand mix. It particularly likes wet sites. It is perfect for a bog garden, containers, or water gardens.
Light
Grow Equisetum Hyemale in full sun, partial sun, or partial shade depending on your particular climate.
Climate
This species of horsetail grows well in Zones 4 through 9.
Maintenance
Indoors or outside, be sure to cut off any rhizomes growing out of the pot. This will keep the horsetail from spreading into the pond or surrounding soil.
Place the pot so the rim is above the water surface, near the edge of a pond or water feature is perfect.
Prune the dead stems after they turn brown in winter. Provide some winter interest by leaving the stems in place until new stems emerge.
Watering
Water horsetail reeds twice-a-week or more, so the soil stays moist, almost wet. Pots sitting in water need less watering. Water pond plants only if the potting soil surface looks dry.
Pests
Equisetum Hyemale does not have any serious insect or disease problems. The only problem is its very aggressive and spreading nature.
Fertilizer
When the reed is actively growing in spring and summer or every two months, apply a fertilizer made for pond or bog plants. Follow the recommended applications on the fertilizer bag.
Here are 35 Homemade Organic Fertilizers to try!
Grow Equisetum Hyemale Indoors
Although a bog plant, horsetail reeds are low-maintenance and do well in pots on your patio, too. Plant Equisetum Hyemale in a non-perforated, 1-gallon pot with drainage holes.
Lift the pot once-a-month to examine the drainage holes. Cut back any rhizomes that are trying to escape.
Indoors, grow Equisetum Hyemale in moist soil and with a lot of light. A sunny window is perfect.
Use a potting soil that works best for bog and water garden plants. Set the pot in water that is no more than 4-inches deep.
Will you be growing Equisetum Hyemale? Tell us your thoughts in the comments below.
Research:
1 Missouri Botanical Garden. [http://www.missouribotanicalgarden.org/PlantFinder/PlantFinderDetails.aspx?kempercode=c670]
Beautiful, Squeaky Clean, HEALTHY Teeth
… Without Going To The Dentist!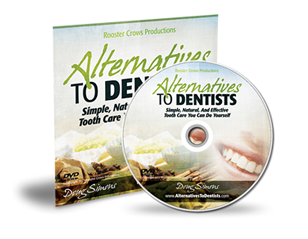 Click here to get this holistic approach to caring for your teeth
The post How To Grow Equisetum Hyemale appeared first on The Grow Network.